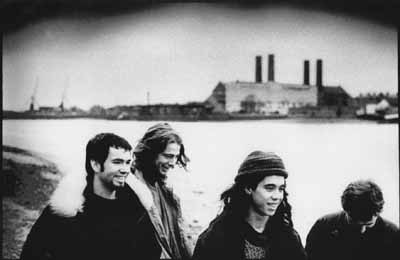 Post-Rocktoberfest #s 6, 7, 8 and 9 - Bark Psychosis "All Different Things" 12", "Nothing Feels"12", "Scum" 12" and "Blue" 12"
It's always exciting when a new record store opens in town. So there we were the other night, enjoying a burrito on Kingsway, when Kris pointed into a small gallery and said: "You know there's a record store in there, right?" Lo and behold, at the back of the gallery, down a little staircase was Dandelion Records (presumably named in homage to John Peel).

The store is pretty well stocked and most of the inventory apparently comes directly from the proprietor's personal collection. Prominent items include some first German edition Can records, priced over the $100 mark. But there's plenty of affordable stuff too and it seems like the kind of place where one might find something completely random and extremely exciting.

So it was that I walked out of the place with four Bark Psychosis singles under my arm (after paying for them, obviously). I already had all the songs. Bark Psychosis are extremely well catered for when it comes to singles compilation CDs (there are three and I have two of them). Still, these 12"s were items that I simply couldn't say no to. Sure, you can probably find them in plenty of £1 bins in the UK but you just don't see them over here and they fetch a pretty penny on eBay.

"All Different Things" (1990)

A dark one, this. Showcasing the band's Swans influence but keeping things extremely restrained and spacious. Anger wells up throughout but always finds itself suppresse
d before things get out of hand. Tense stuff.
"Nothing Feels" (1990)
It's the Nick Drake influence that comes to the fore here. This single showcases two of the band's most straightforwardly lovely songs. The b-side "I Know" is one of my personal favourite Bark Psychosis moments and here it is for your streaming pleasure.
"Scum" (1992)
Their masterwork. "Scum" is 20-odd minutes of tension-and-release, not unlike the "All Different Things" 12" blown out of all proportion. Despite its length, "Scum" is incredibly simple and amounts to an essentially very concise distillation of millennial urban angst. The song is cut on one side of a 33rpm record, with the other side dedicated to an astonishingly lovely and chaotic etching. A must have for any serious UK post-rock fan. Seriously, seriously essential.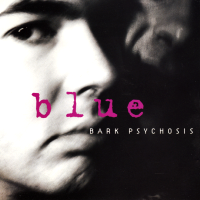 "Blue" (1994)
I think this was the last release by the original incarnation of Bark Psychosis. It came in the wake of their major label debut

Hex

utterly failing to capture the record buying public's imagination and is an anthem to what the British music press were calling "post-rave comedown". Musically, it's one of the band's most explicitly electronica-influenced tracks and lyrically it seems to ruminate over all manner of bitterness and disillusion: "Petrol station plastic people/Their expressions are fake/You're only as good as your last goddamn mistake". This is a very deep shade of blue indeed but - ironically enough - the record itself is pressed on milky white vinyl.