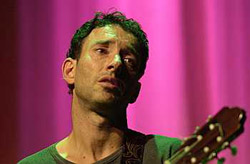 What Am I To Do?
Carl
's concept of
Ascetic Bohemianism
has led to a lot of introspection in my little corner of the blogsphere. (By the by, has anyone else thought of using the term AsBo as an acronym for this - hilarious if you read the English papers. ) My soul-searching/navel-gazing has led me back towards an old quandary: how do you reconcile a life of quiet self-improvement with a love of Dionysian, bonkers or downright unpleasant art?
Let's back-track to the early 90s, when I went through my major rap music obsession. I loved hip-hop passionately at that time and the music opened my mind to a lot of interesting, worthwhile lines of thought. Still, I always had to take rap music/hip-hop culture with more than a pinch of salt because I found so much of the content morally and politically objectionable.
I guess I only had so much salt to hand because, some time in the last few years, I started to find the whole shebang distinctly unpalatable. Nowadays, I hardly listen to any rap music at all and am honestly made queasy by overt displays of affiliation with hip-hop culture. The other day Kris forced me to watch an episode of MTV's

My Super Sweet Sixteen

in which people kept describing things as being "off the chain" and yelling "let's get crunk!" It was sickening.
Anyhoo, just recently, I had a similar experience, albeit within a shorter time-frame. This time it was the industrial underground centering around Coil/Current 93/Nurse with Wound that got me open. Delving deep into this peculiar sub-scene led me into a treasure trove of entirely unique and extremely meaningful music. At the same time I was always a little put off by scene's rather adolescent obsession with sex, death and "magick". Once again, I find my figurative salt cellar running low. I've seen a couple of Myspace "favourite music" lists recently that place connect_icut alongside awful, awful Nazi/Satanists Death in June and Non. I've started to wonder what I've gotten myself into.
And yet and yet... Here's the catch, the central paradox, if you will: I realise now, that the elements I find most objectionable in hip-hop and industrial music are essential to the appeal of said genres - at least they are for me. That's why I prefer Black Moon to Black Star and Coil to Nurse with Wound.
I've always admired the way Nurse's Steven Stapleton scoffs at the more ludicrous excesses of his industrial peers. But, honestly, isn't it ludicrous excess that makes Current 93 and Coil so much more satisfying than NWW? It's the excess of imagination, sincerity and wonder what makes this music great. Likewise, its the terrifyingly cold and hard acceptance of late capitalist "reality" that makes the music of Mobb Deep and their ilk so compelling.
So where does that leave me? Sitting at home, listening to Jonathan Richman and wishing we could all be nice and reasonable - or, at least, wishing things could ever be that simple.