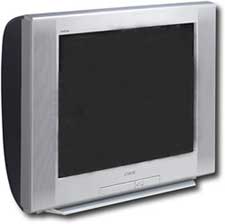 Veronica Mars Versus the iPod People of Why TV is Better Than Music
It's incredible, really. I've used this blog as a forum for admitting to liking some fundamentally terrible music. There's really no excuse for Ween OR the Legendary Pink Dots. Nobody bats an eye. And yet, when I admit that I like to - gasp - watch TV, I start to get borderline abusive comments posted by random strangers.
Yes, Veronica Mars:
The Debate Continues
- and it seems to be getting a little personal.
So what gives? Well, first of all, I'm assuming my detractors have a US-centric viewpoint. When they say "TV" the mean "mainstream American TV". European TV (due, largely, to the relative importance of public broadcasting) is a different matter - but not as different as many of my fellow Brits would like to think.
Even bearing in mind the fact that we're talking about my love for Hollywood teen/genre comedy-dramas like
Buffy
and
Veronica
, it's a little hard for me to understand why all music is apparently acceptable, while "TV" (in this limited sense) is a disgrace.
People seem to instantly, thoughtlessly regard music - no matter how nerdy or cheesy the music - as inherently more cool/worthwhile than TV. The coolness of Being Totally Into Music thus reveals itself as an important cornerstone of the vapid iPod culture that I've come to utterly deplore. It's just another mindless faith; an unjustifiable foundation for a lifestyle that helps to perpetuate capitalism/evil.
While giving quasi-religious reverence to the spiritual superiority of music, these iPod people seem really hung up on the idea that TV can't be great art or that great art can't happen within the confines of a popular genre/corporate structure. This prejudice seems to stem largely from insecurity - the IPPs can't make meaningful judgments after years of uncritical "appreciation" of middlebrow shite, so they rely on knee-jerk small-mindedness to shore up their unfounded sense of cultural superiority. For them, music is a quick signifier for Okay-to-Like and TV is an easy target.
Unfortunately, when done in this context, listening to - or rather BEING TOTALLY INTO - music is a passive, mindless experience; a dose of soma that makes people feel that they're right/everything is alright. Here's the other side of this coin: for me, watching TV doesn't have to be passive or mindless. I try to approach my TV watching the way I approach my music listening - with an open, critically-active mind (it's more fun that way, apart from anything).
The
real
problem with American genre TV is that it's so deeply tied to art-by-committee within the structure of highly Capitalist corporate organisations. It's pretty hard to get a TV show produced that is not tainted by the agenda of some corporate paymaster. Music, on the other hand is a highly democratic medium, which anyone can do if they have access to an acoustic guitar or a computer or whatever.
Nevertheless, I'm going to say that
Veronica Mars
is proof that extremely interesting and genuinely provocative art CAN make it to the small screen, even in the most unlikely of circumstances. Flipping the coin again, I'll note that the vast majority of DIY rock and electronic music releases are utterly devoid of ideas and entirely pointless.
It's easy to make an acceptable sounding album - utilising the available technology and independent infrastructure, whilst deploying all the relevant aesthetic signifiers. But what's it all for? Rebellious music culture is so well mapped that it's lost any power to surprise and become little more than a set of empty, easily marketed gestures. There's plenty of decent music being made but little sense that said music could change the world for the better.
From this viewpoint, American genre TV represents relatively virgin territory. There's so much ground still to be broken; so many borders to be dissolved. This is precisely
because
, in Hollywood, it is more or less impossible to make a TV show that has something original and important to say. Another victory for the cultural economy of scarcity!
I still believe that music is a magical force that can stop wars and stuff - it just doesn't FEEL like it, in the contemporary context. TV, on the other hand, feels loaded with subversive potential. Let's just hope the man doesn't notice before the people do.